Sometimes, the life goes by faster than you realize. Once again, I am finding myself putting together a year-in-review blog post way after the year ended, but hey – better late than never :)
On one hand, 2021 was yet another year in the global pandemic, on the other hand I feel like Anda & I really got the most of it!
Maybe one day with hindsight, I will consider 2021 as one of the most stable (and packed) years in our life. Anda continued crushing her medical practise, night shifts & covid ICU (oh gosh, can't express how much I admire them), and I continued doing my best to help growing & scaling Kontent.
The rest of the time, we spent outdoors, running, biking, hiking, camping, glamping… whatever you call it. Considering the new challenges & adventures 2022 is going to bring us, better we enjoyed 2021 at full blast!
3x from the races
From outdoor sports & training perspective, with 569 hours & 8000k+ 2021 was another strong year in the books. I stuck to my decision "race less, train more" and focused only on a few competitions per year.
Lavaredo Ultra – Cortina Trail 50k
After preparing for Czech Half Marathon Champs in April (and ending up not participating due to covid limits), I found myself with a solid speed but lack of vertical training in the end of Spring.
That's why I went into the Lavaredo 50k w/o any significant expectations and gosh, how much I enjoyed the race! Not only I enjoyed it, but more importantly also raced hard to finish in top25 out of 1400 competitors. What a day!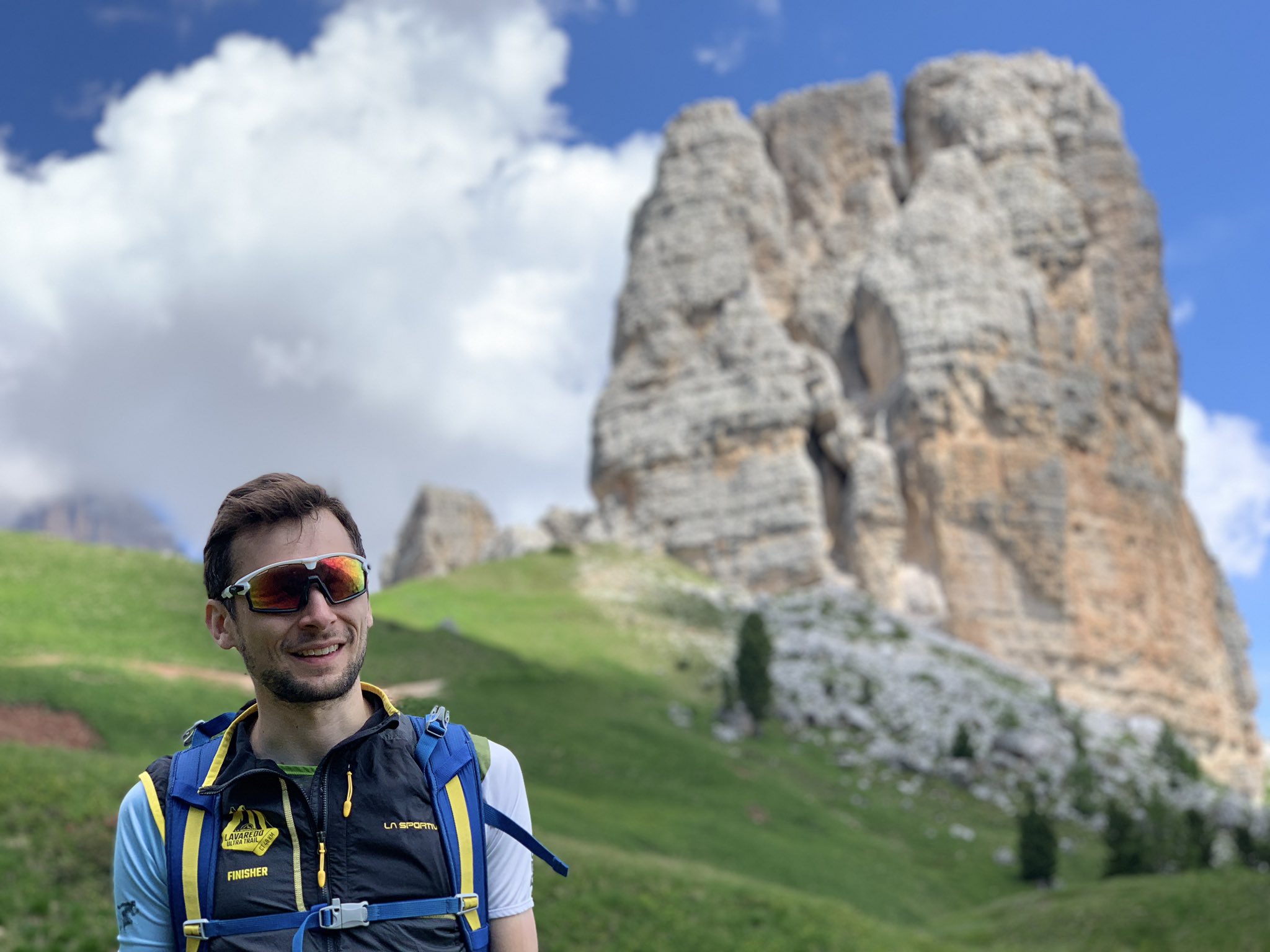 UTMB – OCC 56k
A second big race of the season was UTMB! On one hand, it's too big of a circus for me, on the other hand… it's UTMB and it is indeed an experience just to be part of the whole racing week in Chamonix.
Unfortunately the race did not unfold as I hope for. "Sometimes a finish feels like a victory" was my headline on Strava and it says everything :) Falling pretty hard in the downhill at 17k, it was then 40k struggle just to bring it home back to Chamonix. At least got to kiss my wife on the finish line!
Gravel svih Moravskym krasem 170k
I had a bit of a run-down after UTMB, so did not plan anything big (apart from traditional XC/fell races) in the fall. However, when I learnt about a first ever long distance gravel race near Brno, I knew I was in.
Since I still prefer either pure road cycling, or mountain biking I don't have a gravel bike. I won't lie, I didn't feel very confident at the start with 27mm roadie tires. I opted for Challenge Strada Pro that are typically used at Strade Bianche and hoped they'd survive 170k/3000m+ including some dirty gravel trails & singletracks.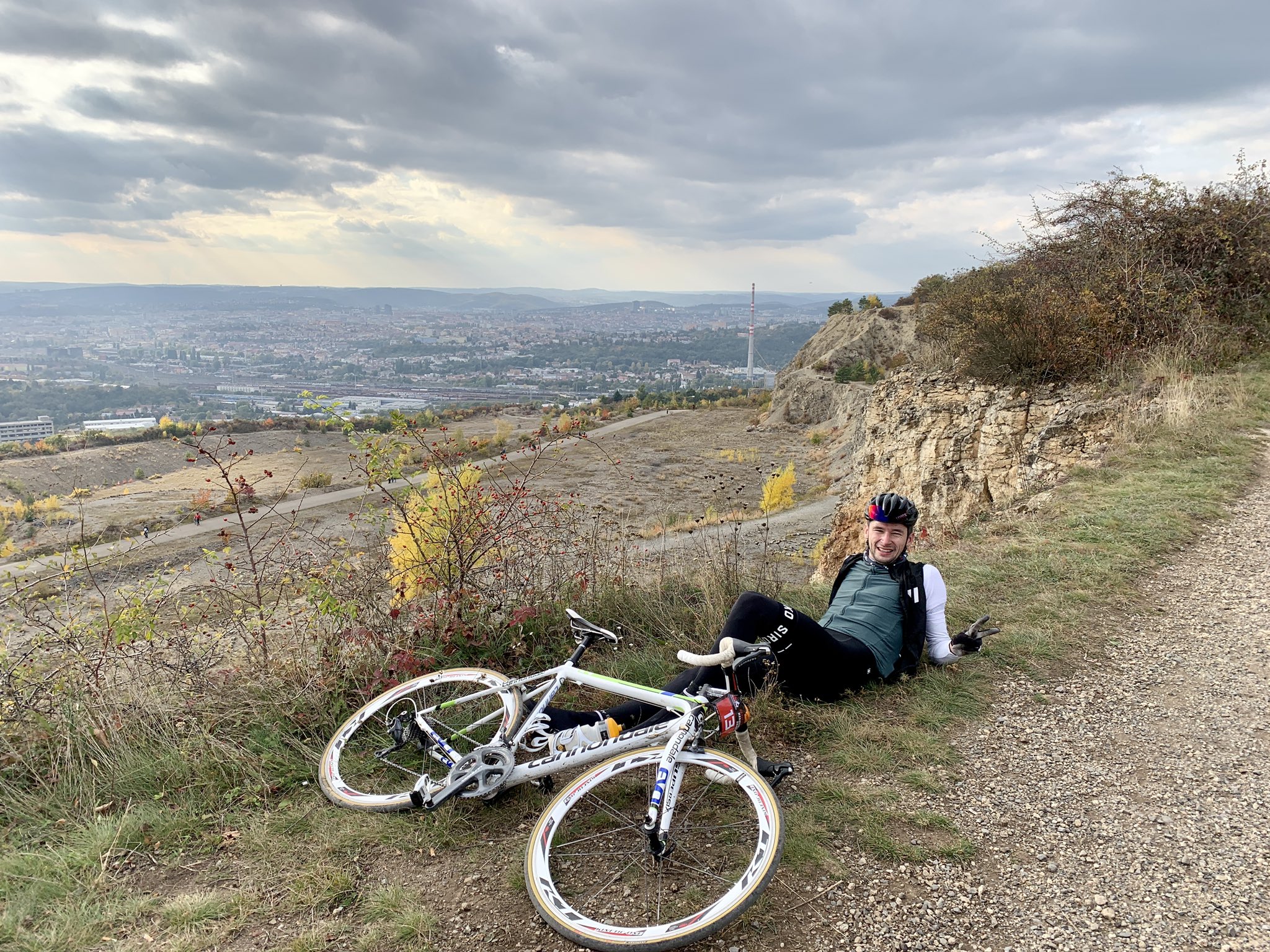 When it came to the race day, it was one of those days when everything went well for you. No fall, bike & tires survived, and even though I got lost a few times I was able to bring the victory home in 6 hours 47 min :) Strava
3x from traveling
Gran Canaria
While we always prefer mountains to beaches, we made an exception and went to Canary Islands to enjoy some real time off in July 2021.
Of course, we still chose an area in Gran Canaria that was just a perfect combination of the ocean, mountains and retreat. Redondo de Guayedra is a unique natural resort on the northwest coast of GC and features everything you need for an active outdoorsy retreat! 100% recommended:)
If there is one thing about this island that absolutely blew our mind, it would be its diversity. You can experience easy days on the beach, challenging hikes/runs in the steep mountains, rain forests, sand dunes, historic towns with excellent cuisine… and of course for roadies, it features countless stunning roads winding across the island.
Chamonix-Mont-Blanc
Chamonix has always been one of those places where we are more than happy to return.
This time, we combined my participation at UTMB/OCC, remote work, countless of french baguettes & a week of full Chamonix experience and simply had a blast.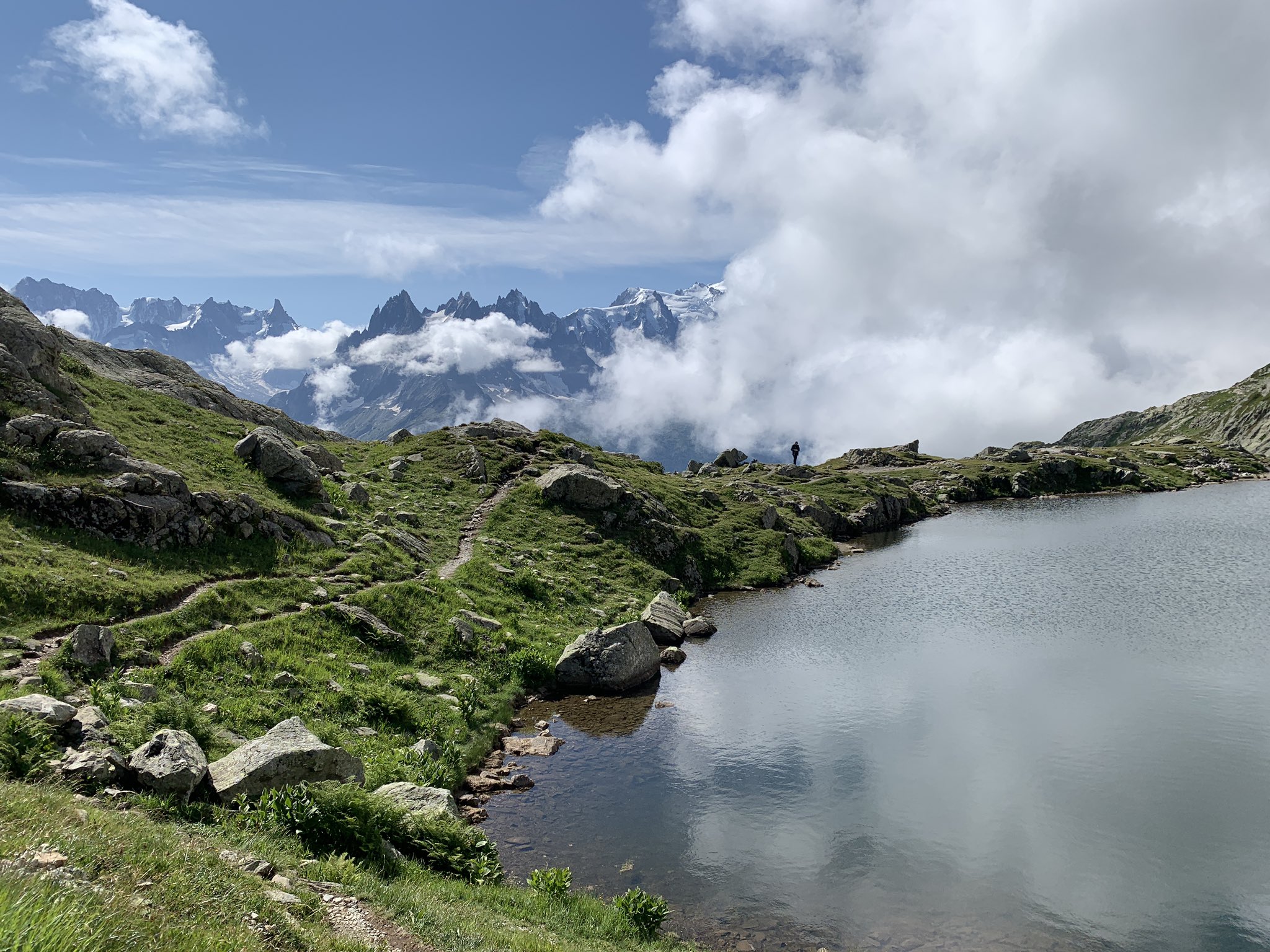 Seeing the whole town hiking, running, climbing, biking every day, it's just challenging to take some rest days before the race! We enjoyed some easy hikes up to Lac Blanc, took a cable car to Aiguille du midi (3842 above the sea, just wow!), went by a train to Mer de Glace and the race day came sooner than we expected!
The only disadvantage of racing in places like Chamonix, Livigno or Cortina is always the absolute impossibility of any recovery day after the race. Of course, we had to go 1500m+ up & down Le Brévent in the days after :)
Cortina d'Ampezzo
There are many reasons why we love Italy and always will. Cortina would be one of our go-to-places just based on the fact that it's in Italy & in the mountains :)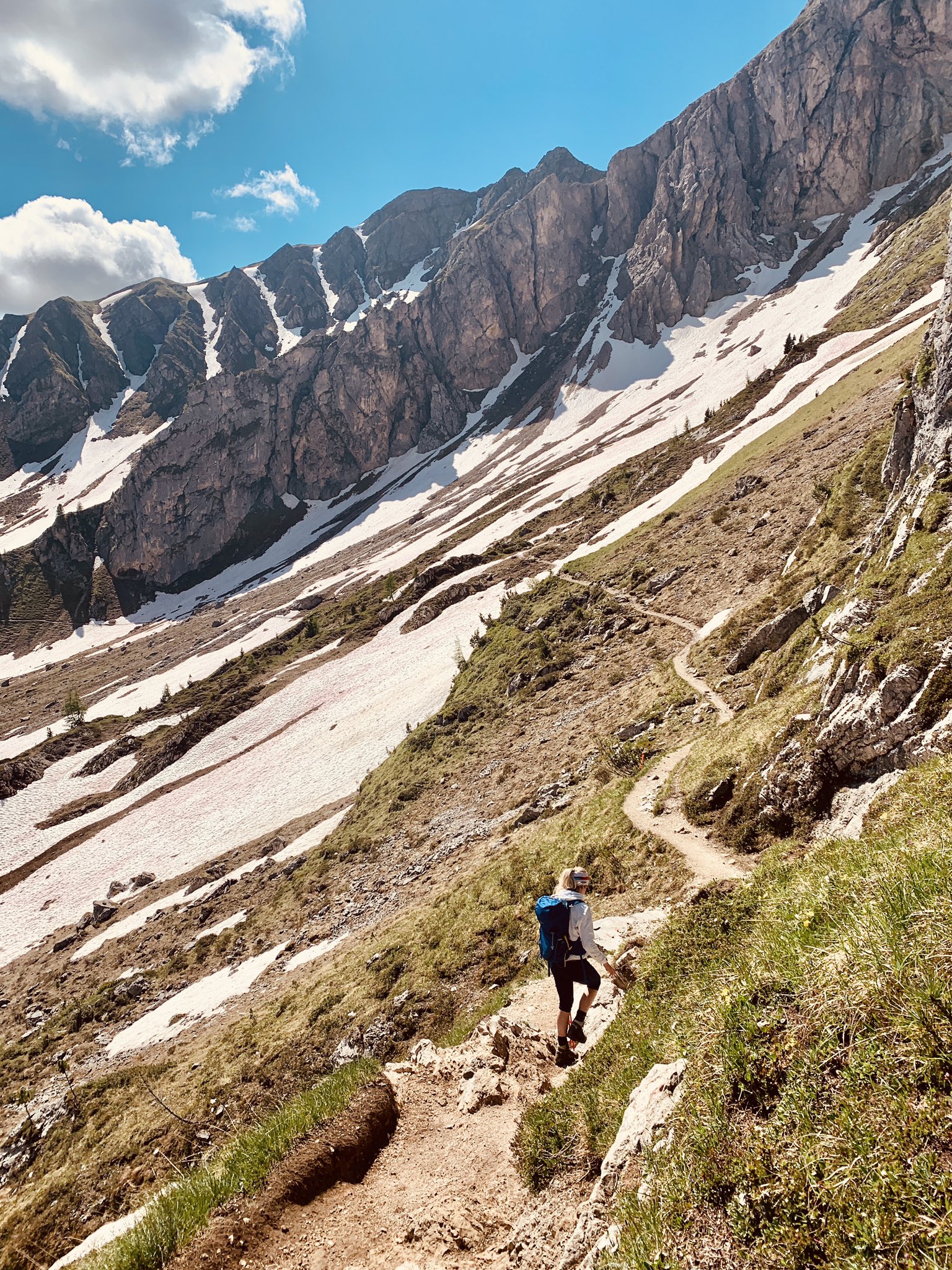 Again, the combination of the race and the excess of coffee and Italian cuisine was irresistible.
3x more from Italy
Did I mention we love Italy? I am sure I did (most likely in every year review, since it's for sure our most visited country). In 2021, we were lucky enough to go out there multiple times so it deserves an extra section :)
Tarvisio – as close as it gets to Brno
It was some Friday in late September when both Andrea and I had been working some long hours many days in a row and we realized that it's time to go back to the Alps asap.
Around 4pm on Friday after work, we jumped in the car and just 5 hours later, we were asleep in the valley of Valbruna.
It turned out that spending some days hiking, running and enjoying some good coffee, pizza, pasta and tiramisu was exactly what we needed to recharge our batteries :)
Passo Giau
One of the best mornings we woke up to in 2021 was at Passo Giau. Sleeping in a car in 2200m+ has its ups & downs. The bigger the hailstorm at night was, the greater the reward awaited us in the morning. Coffee, breakfast and just choose from an inexhaustible number of trails around!
Livigno – feel the Alps :)
Is there any better place to kick off a winter season than Livigno? :) We got early season apartment and the only question was whether the hospital would let Anda go on vacation considering yet another covid wave coming.
Our stoke level quickly exploded when we got to know that we were off to go and the following days were once again full of outdoor sports. Only this time, it was ski touring, cross country skiing, downhill.. sauna and of course the Italian cuisine :)
3x from Czech Republic
In addition to trips abroad, we spent a lot of time wandering across the Czech Republic (which we kind of got used to during the pandemic). In terms of the frequency of visits, the Toulovcovy Maštale and Jeseniky Mountains are definitely leading!
3x podcasts
It's not just outdoor sports that make a person (me:)) alive. Although I write this blog primarily for myself to record my own experiences, I am always pleased when someone tells me that the blog inspires them. If someone inspires me, I am aways curious to hear what books & podcasts they enjoy. My list below!
3x books
Summary